There are several different numbers on a typical eyeglass prescription. We think it's important that our customers understand these measurements.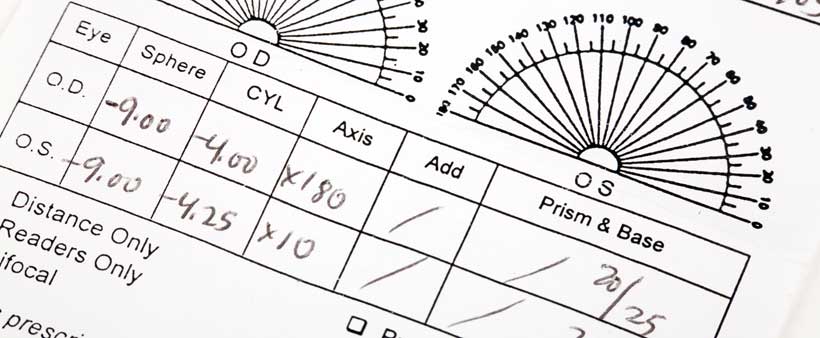 You should see two rows on your prescription, one labelled O.D. and the other labelled O.S.
O.D. stands for Oculus Dexter and refers to your right eye's measurements.
O.S. stands for Oculus Sinister and refers to your left eye's measurements.
Each eye will have boxes for 5 different measurements:
Sphere (SPH) indicates the lens power prescribed for nearsighted or farsighted vision. Sphere is measured in diopter:


.

  + indicates farsightedness


 .

   – indicates nearsightedness
Cylinder (CYL) and Axis are measurements that are related to correcting Astigmatism. Both of these measurements will be filled out or both will be left blank.
Add is an optional measurement that indicates magnifying power for reading, bifocal, multifocal and progressive lenses. For some prescriptions, this will be left blank.
Prism (and Base) are measurements for eye alignment correction. For some prescriptions, this will be left blank.
Pupillary Distance (PD) measures the distance between the centers of both pupils and is needed to correctly grind lenses. This measurement is usually taken by an optician in-store as part of the eyeglass purchase process.
Did you know that eyeglass prescriptions expire? Most prescriptions are valid for two years before you require a new eye exam and prescription. It's important to note that we cannot legally dispense eyeglasses without a valid prescription.
If you have any questions about your eyeglass prescription, don't hesitate to stop by your local Hakim Optical location. Our knowledgeable staff can help you find the perfect frames, lenses and coatings to match your prescription.
Stop by your local Hakim Optical location
to speak with an optician about your prescription and options for glasses.
Hakim Optical is committed to providing our customers with fast and simple solutions to their eyewear needs. Our expert staff, one-hour labs and low prices combine for the complete shopping experience.
Show off your latest glasses from Hakim Optical.
Follow Hakim Optical on Facebook, Instagram and Twitter and share a picture of your glasses with the tag #HakimOptical for a chance to be featured on our social channels and the What's Buzzing section on our website.