Contact lenses are an extremely popular choice for those who need corrective eyewear but don't wish to wear glasses every day. If you're interested in wearing contact lenses for the first time, it's normal to have questions about where to begin, how to wear them, and how to take care of them properly. At Hakim Optical, we've put together a contact lens guide with some of the most important information to help both new and experienced contact lens wearers.
What Is A Contact Lens Exam 
Most people think that an eye exam and a contact lens exam are the same thing, but in reality, they serve very different purposes. When it comes to an eye exam, your optometrist is examining the health of your eyes including checking for farsightedness, nearsightedness, as well as health issues that are present within your eyes and your body. 
During a contact lens exam, however, your optometrist is checking to see if you're a good candidate for contact lenses. This includes measuring the health and curvature of your corneas and asking you questions about your daily routines to determine if you'd be better off with dailies, weeklies, or monthlies.
Contact Lens Safety Tips
Did you know that there's a proper way to put in your contact lenses to ensure your safety and comfort? It's true! There are a few steps you can take to properly put your contact lenses beginning with washing your hands. Before wearing contact lenses for the first time, make sure you read our contact lens safety guide thoroughly.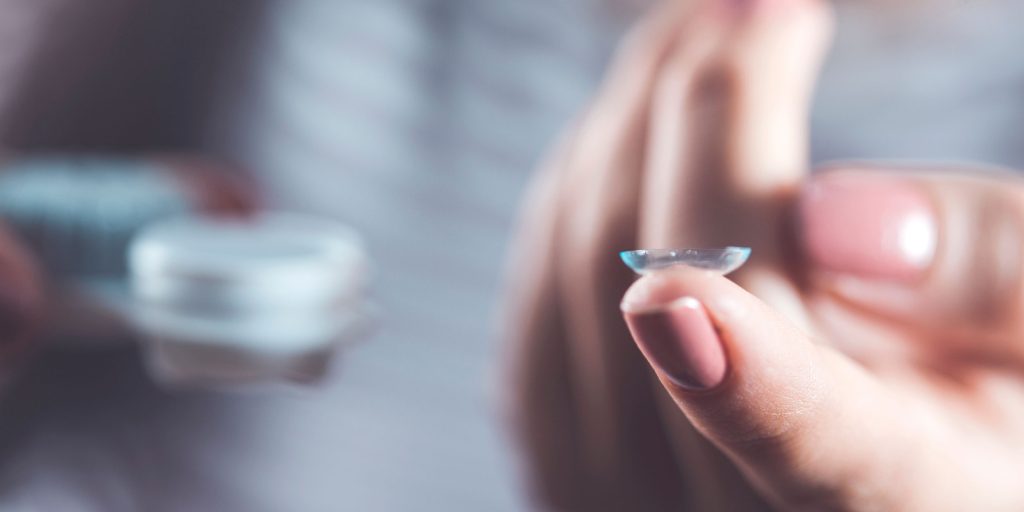 The Best Brand Of Contact Lens
When it comes to contact lenses, not all brands are created equal. Fortunately, at Hakim Optical, we only carry the best brands. While there are different options depending on your individual needs including nightwear, coloured, and day-to-day lenses. The team at Hakim Optical will be happy to help you find the right brand and style of contact lenses for your lifestyle.
Tips For Adding Contact Lenses To Your Routine
When wearing contact lenses for the first time, it can be a bit jarring to get used to them. When you already have a set routine, it can be difficult to incorporate a new health regiment. There are many things that you can do to help to normalize the use of contact lenses in your daily routine. Take a look at our guide for new contact lens wearers.
Contact Lens FAQs
If you ever have any questions about contact lens use and care, don't hesitate to call or drop by your local Hakim Optical to ask one of our expert team members. However, we do have some answers to our most commonly asked questions surrounding contact lenses and their care.